A guide to Italy's underrated surf season
Waves, wine, and good food.

By Adam H. Graham

18 Aug 2023 • 3 minutes read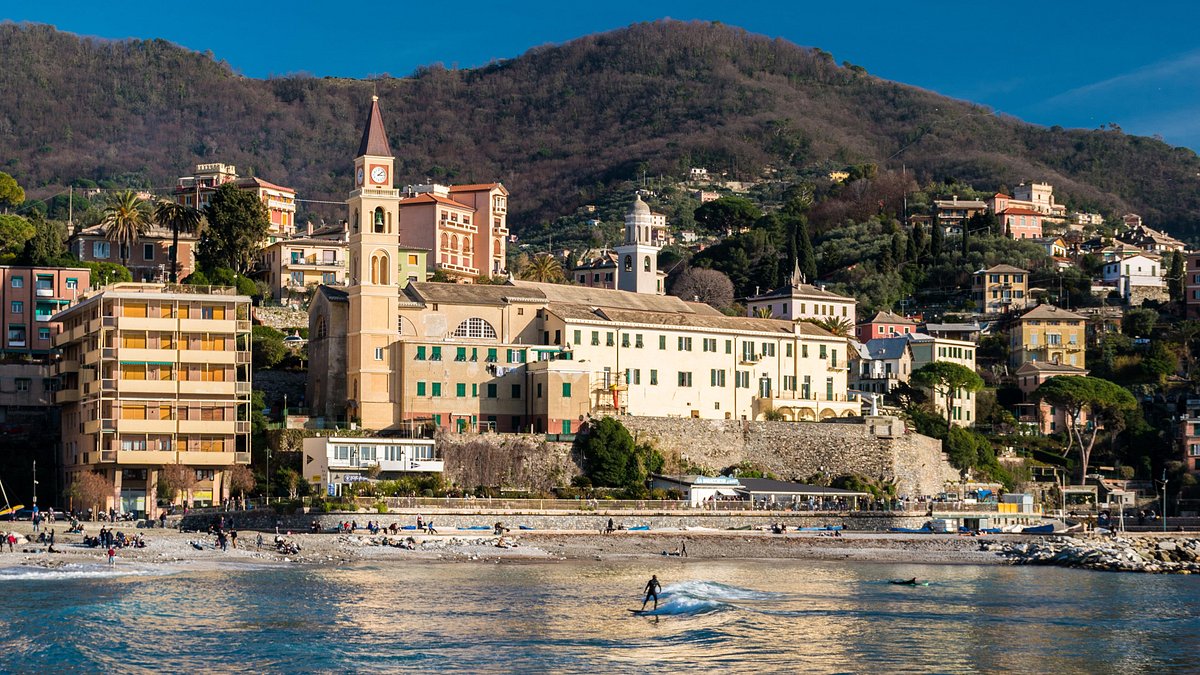 Italy has many different seasons. August brings the public holiday Ferragosto, when Italian cities from Milan to Palermo empty out and beaches fill up. October is porcini and truffle time. And December signals advent, with all its boxes of panettone and pandolce. But, from November to April, a lesser-known period unfurls: Italian surf season.
Mediterranean swells peak in the winter months, with waves sometimes reaching 18-plus feet (for context, even 6 to 10 feet is reason enough to chug your cappuccino and suit up). Eager to experience these under-the-radar waves, pockets of surf culture have popped up around the Med in recent years, from Israel and Tunisia to France and Spain. But Italy's combination of ample sunshine; excellent, affordable food; and dolce vita make it one of the more appealing Mediterranean surf destinations.
"What I love about Italy is that wherever you travel for waves—Sardinia, Liguria, Toscana, or Sicily—you can be sure that after surfing, you'll always have the best food," said Valentina Vitale, a champion surfer from Rome.
Like many Italian surfers, she favors the islands in the south. "I particularly love surfing in Sardinia," she said. Vitale also co-owns and operates one of Italy's largest surf schools, Ostia Surf, with over 1,500 students a year and just a 30 minute drive from the Colosseum. It's also, according to her, home to the best surf shop in Italy: CityBeach.
To be clear, Italy isn't Portugal or Hawaii. You're not going to find 100-foot rogues here, like Big Mamma in Nazaré. That said, the surf scenes in Liguria, Tuscany, Sicily, and Sardinia are surprisingly robust, with conditions that appeal to both beginners and pros. Here's how to best explore them, on and off the water.
Liguria
The Ligurian town of Recco, a 20-minute drive from Genoa and Portofino in northwest Italy, is still better known for its professional water polo team and onion focaccia from iconic bakery Panificio Moltedo than its surfing. But on a good day, you'll see 20-plus surfers carving up the swells just off Spiaggia Centrale Beach, where Blackwave Surf School & Shop offers wetsuit and surfboard rentals as well as private and group surf lessons for all abilities. After a day on the water, join the other surfers at Peyote's Taco Bar for burritos and mezcal cocktails in view of the beach.
Head south on the autostrada for an hour and you'll hit yet another Ligurian surf town: Levanto, right next door to Cinque Terre National Park and home to Brothers SurfHouse & SurfSchool. Peak time here is the end of winter, when the reliable Mistral winds sweep down from France and often create tubular wave conditions off the wide swath of sandy beach, backed by verdant mountains.
Tuscany
Continue on another hour to Tuscany's Versilia Coast and the chic town of Forte Dei Marmi, where golden-sand beaches are lined with lidos (private beach clubs). In summer, the beaches around here are crowded and the sea is quite placid, but fall and winter bring swells—and, with them, solitary surfers. The Versilia Coast, often considered the cradle of Italian surfing, also features champion surfer Iacopo Conti's Wave Surf Shop as well as surf school Nimbus Surfing Club.
Even further south, there's Bolgheri, featuring Super Tuscan wineries like Le Macchiole—and HeavyWater Academy Surfschool. It's an unlikely pairing, but the wine tourists who come here stay inland near the vineyards, leaving the beaches to the surfers during the off-season. (Also, this is Italian wine country, so it's not unexpected to see local surfers enjoying a glass of merlot after hanging 10.) After a day of cutbacks and barrels on popular surf beaches like Piombino and Carbonifera, check into the seaside Relais dei Molini and watch for swells from the outdoor Jacuzzi.
Sicily
Sicily's best surfing can be found on the northern and eastern coasts, from Palermo all the way to Catania (where you can surf under the gaze of Mount Etna). The island is perfectly angled to receive uninterrupted swells from the northwest, southwest, and southeast, with little landmass in the way to create a wave shadow zone.
The premier surf spot in Sicily is Isola delle Femmine, about a 20-minute drive from Palermo. The hook-shaped peninsula offers ideal swell conditions, especially in winter, and boasts a constellation of surf schools, shops, and pastry shops like Bar Pasticceria Valentina, where local surfers pair spritzes with pillowy cannoli and gelato made with pistachios from the nearby town of Bronte.
Sardinia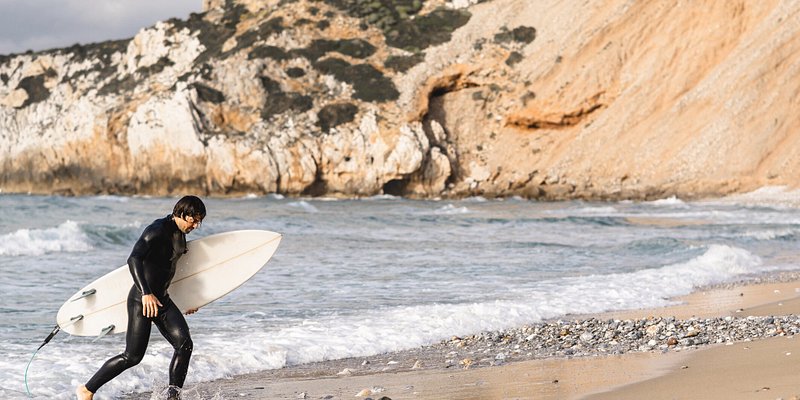 Sardinia offers a more rugged, less populated landscape, and remains a pilgrimage site for Italian surfers thanks to its massive waves (some of the largest in Italy) and the fact that pro surfer Alessandro Piu was born and raised here. The entire west coast of the island, especially the Sinis Peninsula and the Capo Mannu headland, has the best surfing, with approximately 200 days of waves per year. In fact, Capo Mannu is arguably Italy's most favored surf spot, with beaches like Gozzilla—a restricted area for advanced surfers only.
Gathering spots are scarce in this remote stretch of Sardinia, but there is Sottovento in San Vero Milis. Although it's just a bare-bones wood hut on the beach with handwritten menus, it serves daily specials like spaghetti bottarga and polpo alla diavola (octopus in tomato sauce) alongside jugs of house white wine.
More underrated surf spots