The Milky Way Adventure Park
About
With massive indoor fun and acres of outdoor activities, The Milky Way Adventure Park is a fantastic all-weather family experience! Save Planet Earth on Ziggy's Blast Quest, an interactive ride that's a huge hit with all ages. Ride the Cosmic Typhoon roller coaster, whizz down the Gravity Rider donut slide, have a bumping good time on the Droid Destroyer dodgems, negotiate the maze and go wild in the Time Warp, North Devon's biggest indoor adventure play area. Challenge the family in the Ninja Stars games arena - an interactive assault course that's designed for ages 6+. Watch top live shows featuring Merlin from Britain's Got Talent and, from April to October, fantastic displays from the North Devon Bird of Prey Centre. Little ones will love the Little Stars play centre, huge bouncing pillows, Cosmic Caterpillar ride, pottery painting and the mini-train. All rides and shows are included in the entrance fee at The Milky Way but do book ahead as spaces are limited.
Duration: More than 3 hours
Meets animal welfare guidelines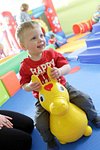 What is Travellers' Choice Best of the Best?
This award is our highest recognition and is presented annually to those businesses that are the Best of the Best on Tripadvisor, those that earn excellent reviews from travellers and are ranked in the top 1% of properties worldwide.
See what travellers are saying
Let down

For the admission price there's not enough there to warrant the cost. All the family were thoroughly disappointed, dragged it out to last 3 hours including lunch! So there's 2 roller coasters, a dodgem ride, laser thingy ride and a train ride. The indoor play area has been shrunk considerably after visiting many years ago to make way for an extra chargeable activity. There's no outdoor play areas. The food is extortionate and the pizza came out burnt. Probably wouldn't revisit.

Good morning. We're so disappointed that you felt your visit was only worth 1 star – especially as this is the first 1 star review we've received in nearly 12 months. The Milky Way is a family run attraction, in rural North Devon, with a loyal team of staff who all work really hard to provide a great value, fun day out for every family. I'm genuinely sorry that we weren't able to achieve this for your family. It's a real shame you didn't come and speak to us about your concerns whilst on site, as we may have been able to help. We're wondering whether you missed some of our outdoor attractions including our two giant outdoor jumping pillows, gravity rider donut slide and maze during your visit. It would also appear you didn't go to any of our shows, which we know are the highlight of a visit for many of our guests. We're also disappointed that you weren't impressed with the changes we've made to the main play area since your last visit. I wonder if you realise that we have removed a wall so the space is actually bigger now and benefits from natural light and seating, as well as the Ninja Stars interactive assault course. Whilst we did remove part of the old play area during the overhaul all of the popular parts remain, including the death slide, three lane astra slide and double drop slide. Fortunately, Ninja Stars has proved to be a huge hit with most guests (children and adults alike!) - plus children love the digital wristband, which is provided within the cost, as it gives them a branded souvenir from their day. Fortunately, from our reviews we know that 91% of our reviewers rate us as 'very good' or 'excellent', which is the reason we've been awarded a Trip Advisor's Best of the Best Award for 6 years running (the only attraction in the South West), so hopefully this shows that we do get it right for most people. Also, according to Google, our average visit time is 5 hours, so that does suggest that most guests find plenty to do and receive good value for money. However, we also understand that despite our best efforts, we will not get it right for everybody on every occasion and we are genuinely sorry that this was the case for your family. Please rest assured that I will speak with the café team regarding your burnt pizza, that was disappointing to hear, and not reflective of our high food standards. Best wishes and please do enjoy the rest of your Easter. P.S While we are ranked up there with the UK's larger theme parks, guests should not come to us expecting Alton Towers and thrill rides. We would strongly recommend to everyone to take the time to look on our website to see what we're about before visiting. We are a much smaller and welcoming adventure park (with far smaller queues) trying to offer something for all ages for the family to enjoy together.

Written 9 April 2023

This response is the subjective opinion of the management representative and not of Tripadvisor LLC.

Written 8 April 2023

Let down and won't be coming back

We visited this place a few years ago and it was great..Came back this year to find the prices at Eye boggling levels. How they can justify charging that much (16.95 per anyone over the age of 3) and not feel ashamed at hiking prices up is beyond me. Gone was the option to reuse the ticket again which added to the rip-off. The place hadn't changed in any way and that's not a good thing. It looked old, and run down. The only additions were things you'd then have to pay extra for which even if out children were old enough to use, they couldn't because it was constantly full, with no one from the staff around to monitor one of these such additions. Even the under 5s soft play was full of children who were clearly over 10 and again no members of staff monitoring this. This was particularly frustrating as my youngest didn't feel safe playing here because of the over-aged children in there The food, over priced and not particularly nice. The seating area packed with people dumping bags and walking off. The gift shop again over priced The exhibits in the Dr who section haven't aged well and you'd have thought the owners would have at least updated the decorations, if not the exhibits There were no new rides or attractions which was disappointing given its bold claims to be award winning. Such a shame as it has the potential to be a great place to visit for young families. Age limits, age appropriate rides, soft plays centres and ticket prices that aren't equal to my weekly food bill would be a good start. Oh and why do some parents think smoking on site is fine? Surely smoking should be banned in any part of the site.

Good morning [Man who Travels]. We're obviously extremely disappointed to receive your review and that you felt let down by your visit - particularly as you left us such a wonderful glowing 5 star review back in June of 2019. Your main gripe seems to be the cost of entry. However, I will just point out that the same ticket 4 years ago in 2019 when you had such "a grand out" was priced at £15.45. That's just a £1.50 increase (or 8%) over those 4 years which is far below the average UK inflation rate of 22% over that same period (certainly a lower increase than your weekly food bill!). With 'costs to us' also rising far more than the 8% ticket price increase and the fact we didn't increase our ticket prices from last year (to help families with the cost of living crisis) I do feel your comments relating to ashamedly "hiking prices" is unfair and unjust. We have never offered for tickets to be 'reused' so I'm not quite sure what you mean there, however we do handout re-admission vouchers which allows cheaper entry every time you revisit until the following March. This was exactly the same back in 2019 so maybe you've confused this offer with being able to 'reuse tickets'? I also personally feel it unfair to state that the site looks old and run down in comparison to your previous visit. We have spent huge amounts of time and money since 2019 upgrading parts of the site including a brand new café / kitchen and vast seating areas in Planet Play, the addition of the new Ninja Stars assault course and a completely upgraded pottery painting centre (Spaceramics), not to mention the complete redecoration of the whole site (inside and out) that takes place every winter. Where I do strongly agree that we have let you down is the older children playing in the under 5's soft play - I assume you mean by the balloon room? I will be sure to put measures in place that we are checking for this far more regularly especially during our busy summer holiday period to ensure younger children feel safe while they play. I apologise that your daughter's experience wasn't up to scratch here. I will also endeavour to see where we can make improvements in the sci-fi exhibition – however I will say that the collection is owed by a third party individual who displays his collection on our site to raise money for the 'Make-A-Wish' children's charity via donations (we have never increased our entry fees or charged a separate fee to view this exhibition). Smoking is not permitted on any part of the site apart from the dedicated undercover 'smoking area' we purpose built. So yes, parents should only be smoking in this area (indicated on the park maps located around the site). Fortunately for us, feedback of this type is extremely rare which you'll see reflected in our ratings with over 91% of our reviewers rating us as 'very good' or 'excellent'. This is partly the reason that we're the only attraction in the South West that has managed to win TripAdvisor's most sought after award (Travellers' Choice – Best of the Best) for the past 8 years running. This award is only presented to the top 1% of businesses worldwide and has ranked us as 2nd in the UK, 5th in Europe and 10th in the world in the TripAdvisor standings. While we're all disappointed and demoralised to receive your feedback we will take it on board and make improvements wherever we can. We pride ourselves on providing a value for money day out and I'm sorry you didn't feel that we achieved this for you this time around. You've made it clear we won't be able to welcome you back again in the future however I do genuinely hope that you enjoy the remainder of your holiday and create some wonderful memories with your young family.

Written 28 July 2023

This response is the subjective opinion of the management representative and not of Tripadvisor LLC.

Written 24 July 2023

The Milky Way

Wen today as a family of 4 (two adults and two kids 4 & 9). We saw the birds of prey, went on the dodgems and a space sort of ride, the caterpillar rollercoaster and the train, we also watched one of the shows and went on the big slide, all of those things were good but we thought there wasn't really much else to do for the price we paid. If it had been £20 or so cheaper I would have said it was worth that. Definitely not a full day out I think we spent 3 hours there. Food in the restaurant is lovely, decent portions. Staff were all friendly and helpful.

I'm glad you enjoyed lots about your day here with us, though it's a shame you didn't spend longer here - our average visitor spends 5-5.5 hours here, according to Google. Nonetheless, I hope you'd like to visit again the next time you're nearby :)

Written 20 August 2023

This response is the subjective opinion of the management representative and not of Tripadvisor LLC.

Written 13 August 2023

Overall just ok, birds of prey shows were excellent though

This was an ok day out. Our two six year olds enjoyed it, particularly the bigger rollercoaster and the blast rider. However it did feel like there wasn't a huge amount to do for the price that we had paid (£60+) with lots of empty space inside, and it felt a bit run down in places. The absolute highlight was the birds of prey shows - we went to both the indoor and outdoor ones. The trainer (Dave I think?) was really great and gave so much information about the birds. You could tell that he was so passionate about them and it was an impressive display.

I'm so pleased you enjoyed Dave Rampling's bird of prey shows Lucy, as well as the rollercoaster and Ziggy's Blast Quest. I'm sorry you didn't feel there was as much to do as most visitors do (the average visitor stays 5-5.5 hours, according to Google) but hope you would come back another time nonetheless.

Written 21 August 2023

This response is the subjective opinion of the management representative and not of Tripadvisor LLC.

Written 17 August 2023

Below par

Decided to write this while still at Milkyway. Some attractions in Devon are guilty of opening, then falling apart over time through a lack of investment. But you can usually see that in their day they were quite something. At Milkyway the opposite seems to be the case, the 'heyday' will never happen. COST; family of three plus one dog, over £53.35. They charge for the dog because they say they have to 'cleanse' the site afterwards. The reviews here stating they have had a fabulous time etc. were overegging it a little. I would challenge anyone who has paid to come here, and does not have a vested interest. To pay to come here again. We had a quick drink in the 'Cosmic Cafe', what we saw put us off having the food. Most of it consisted of baked potatoes with heaps of cheese. Or chips with heaps of cheese. Now make those chips cold and greasy with cold cheese on top, guaranteed to dry up the most dribbling of mouths. We watched so many people tip their hardly touched food into the bin, staff had to empty it twice while we were there. A rip off that advertises it delivers, but surprise surprise...it does not. A visit to Watermouth Castle for the second time would have been preferred.

Good morning Stephen, We are a family run attraction and take great pride in offering a full day out where families can have fun together. We're also extremely proud to have an incredibly loyal and hardworking team who care passionately about maintaining the park, and providing a brilliant experience for our guests. Due to our rural location in North Devon, we rely on customers paying to return, in order to survive. We certainly wouldn't be looking forward to our 40th year in business next year, if we didn't continuously reinvest in the park, ensuring a brilliant day out for the majority of visitors. We do have to accept that occasionally, we won't be the right fit, which unfortunately seems to be the case with yourself. In terms of whether we normally manage to 'deliver' a great day out and good value for our visitors… other than the fact that daily, individuals and families let us know what a brilliant day out they're having (whilst at the park), even more and more of our guests have been motivated to leave really lovely positive reviews on Tripadvisor this summer, far more than any other family attraction in Devon. In addition (taken from stats that Google publishes) we know we have the longest visit time of any attraction in North Devon, at 5.5 hours. I'm sure that the whole team will read your review (because they take real pride in what they do) and feel demoralised at this, our busiest time of the year. To any staff reading this, you are doing the most fantastic job – please focus on all the happy faces you see, who pay to return month after month and year after year and the fact we're the only attraction in Devon to win TripAdvisor's highest accolade, the Travellers Choice Best of the Best award in 2023…so keep doing what you do! I am genuinely disappointed that we didn't manage to provide a good day out for you and your family, and it's a real shame that you didn't come and speak to us about your concerns whilst on site, we have no interest in anyone leaving feeling disappointed.

Written 20 August 2023

This response is the subjective opinion of the management representative and not of Tripadvisor LLC.

Written 19 August 2023

Don't let the dog bark!

We booked online 4 Adults & 3 kids & also paid for the dog, however when we arrived we were presented with a responsible dog owner disclaimer to sign, which we didn't have any issue with as we are responsible adults. A member of staff then approached our dog by looming over her & she barked & we were informed that we couldn't bring our aggressive dog into the attraction! Our dog is a black Labrador & is the most placid dog and is in no way aggressive. We inevitably ended up with 3 kids that have been denied entry for no good reason other than a staff members dog phobia. If you have a dog please be aware that this is certainly not a dog friendly attraction & if our dog is denied entry then it is also highly likely that unfortunately you are also the owner of an aggressive dog! They did void our online transaction to refund our payment due to us not being permitted entry as you would expect.

Hi I can assure you that neither the member of staff who approached your dog first nor myself (having heard the barking from my office) have a phobia - in fact we are both dog owners and lovers. When both my staff member and then shortly afterwards, myself approached your group your dog growled and barked at us aggressively. This can be seen in our CCTV footage. You then told my staff member, in front of other staff that your dog doesn't like strangers. Our dog policy (available on our website), is very clear. Extract here - "Whilst we don't actively encourage dogs to come to the park, we're happy to admit very calm, friendly and well-behaved older dogs with responsible owners. The management reserve the right to approach your dog / dogs to assess their temperament and any dog showing signs that they could cause potential upset or harm to other guests (especially younger children) will not be admitted or will be asked to leave. This includes excited behaviour, such as excessive barking and jumping up." Unfortunately your dog clearly demonstrated aggressive and protective behaviour when approached by strangers and certainly was not friendly. I am sorry that this led to disappointment for your party. I would urge anyone who is thinking of bringing a dog to be confident that they would be friendly if approached whilst at the park - whether this be by a member of staff or a young child.

Written 19 October 2023

This response is the subjective opinion of the management representative and not of Tripadvisor LLC.

Written 19 October 2023
These reviews are the subjective opinion of Tripadvisor members and not of TripAdvisor LLC. Tripadvisor performs checks on reviews.
Detailed Reviews: Reviews order informed by descriptiveness of user-identified themes such as cleanliness, atmosphere, general tips and location information.
---
We perform checks on reviews.
Tripadvisor's approach to reviews
Before posting, each Tripadvisor review goes through an automated tracking system, which collects information, answering the following questions: how, what, where and when. If the system detects something that potentially contradicts our
community guidelines
, the review is not published.
When the system detects a problem, a review may be automatically rejected, sent to the reviewer for validation, or manually reviewed by our team of content specialists, who work 24/7 to maintain the quality of the reviews on our site.
Our team checks each review posted on the site disputed by our community as not meeting our
community guidelines
.
---
Is this your Tripadvisor listing?
Own or manage this property? Claim your listing for free to respond to reviews, update your profile and much more.
Claim your listing
THE MILKY WAY ADVENTURE PARK: All You Need to Know BEFORE You Go (with Photos)
Frequently Asked Questions about The Milky Way Adventure Park
---
---

---